Landscape Oil Painting exhibition. Opened at Queen Street Gallery, Woollahra, Sydney on 19 February 2013.
The first series of six works has a romantic misty representational style that invites the viewer in to an imagined landscape and place whereas works in later series take a more gestural, even abstract, approach.

 Sold
Landscape 01-006
Landscape 01-007
Landscape 01-008
Landscape 01-009
Landscape 01-010
Landscape 01-011
The six paintings in this series, while still representational, are a little more gestural than the first and introduce charcoal lines worked into the oil paint. The six works can read together as one panorama across a single landscape.

 Sold
Landscape 02-054
Landscape 02-055
Landscape 02-057
In Series 3 of the exhibition I deliberately pushed the gestural marks and impasto paint further to play with the balance between a romantic representational landscape and the materials and marks used. This is by no means abstract expressionism but if you read these works against Series one and two there is a progression to expressive mark making.


That aside, for me, there is a feeling of place and a nostalgia for days spent working in the hills of New Zealand many years ago.

 Sold
Landscape 03-087
Landscape 03-088
Landscape 03-089
Landscape 03-090
Landscape 03-091
Landscape 03-092
As in Series 3, Series 4 of the exhibition also uses loose,  gestural marks with charcoal and and paint to play with the balance between the representational and the materials.
The fourth work in this series was also exhibited at the d'Arcy Doyle Art Awards.

 Sold
Landscape 04-027
Landscape 04-030
Landscape 04-045
Landscape 04-046
Work 04-29 was later reworked and incorporated into a new multi-panel work titled Self Landscape
All the works in this show were pushing at different methods of representing the landscape. These ones begin to introduce looser paint work and the use of more intense colours that get carried through the later series as well.

 Sold
Works 64, 66, 67 and 69 were later reworked and incorporated into a new multi-panel work titled Self Landscape
This group of works heightens the colour further from Series 5. These become gestural sketches of the landscape in paint and charcoal.

 Sold
Landscape 06-032
Landscape 06-036
Landscape 06-047
Landscape 06-060
Landscape 06-061
In this series I was keeping the intense colour but attempting to bring a later time-of-day into the feel of the works.

 Sold
Landscape 07-074
Landscape 07-076
Landscape 07-077
The blue sky in these ones was an underpainting layer that seemed to work without further layers so was retained.

 Sold
Landscape 08-040
Landscape 08-041
Works 37 and 38 were later reworked and incorporated into a new multi-panel work titled Self Landscape
The next four landscape oil paintings were not initially included in the 2013 exhibition as there was a limit to wall space in the gallery and they have a different style of marks than many of the other works, with lines scratched into the wet paint with the end of a brush.

 Sold
These two play with the layers of paint, allowing the intense yellow to show through from the overpainting.
Although these works are not truly abstract, they push toward that end of the scale across the sixty-something works included in the show. This was a deliberate conversation with the viewer, to pull them out of reading all the works as misty, romantic and representation paintings. With these ones you need to address the mark making.

 Sold
Landscape 15-099
Landscape 15-104
Landscape 15-106
Similar to Series 15, this group of paintings pushes towards abstraction but has less of the scraping and sanding back of top layers than that series.

 Sold
Landscape 16-095
Landscape 16-100
The show opened at 6pm on Tuesday 19 February 2013 and ran for two weeks to Sunday 3 March, at Queen Street Gallery, 28 Queen Street Woollahra, Australia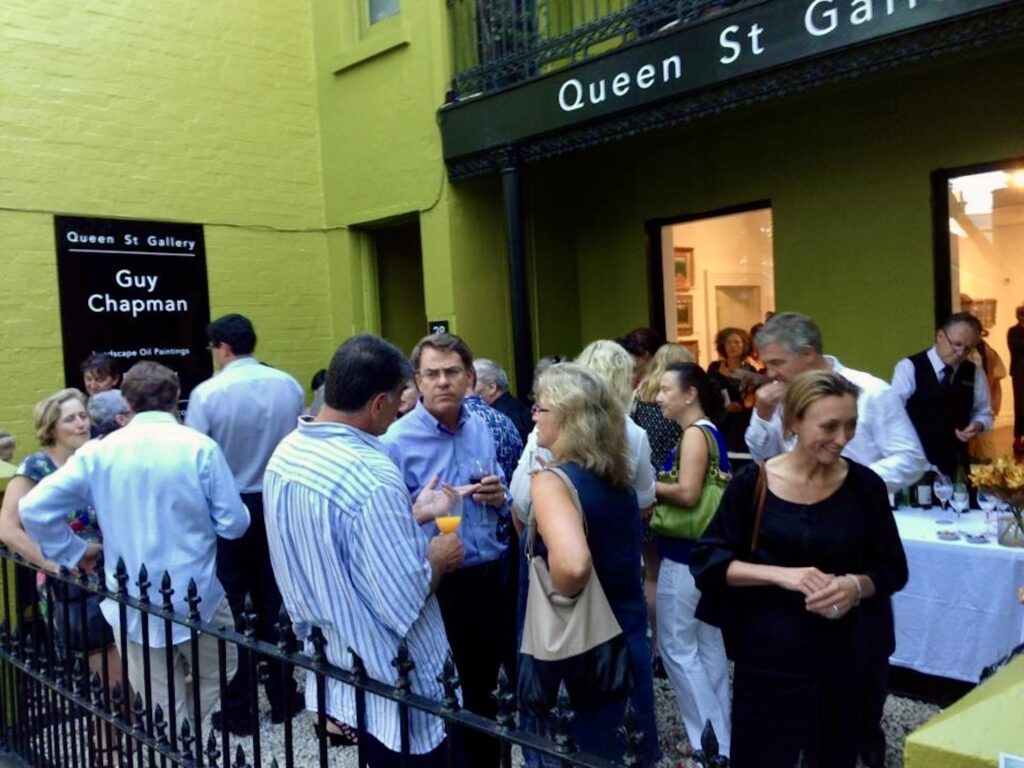 It was a great honour to have the highly respected Indigenous elder Charles 'Chicka' Madden opening the exhibition with a Welcome to Country.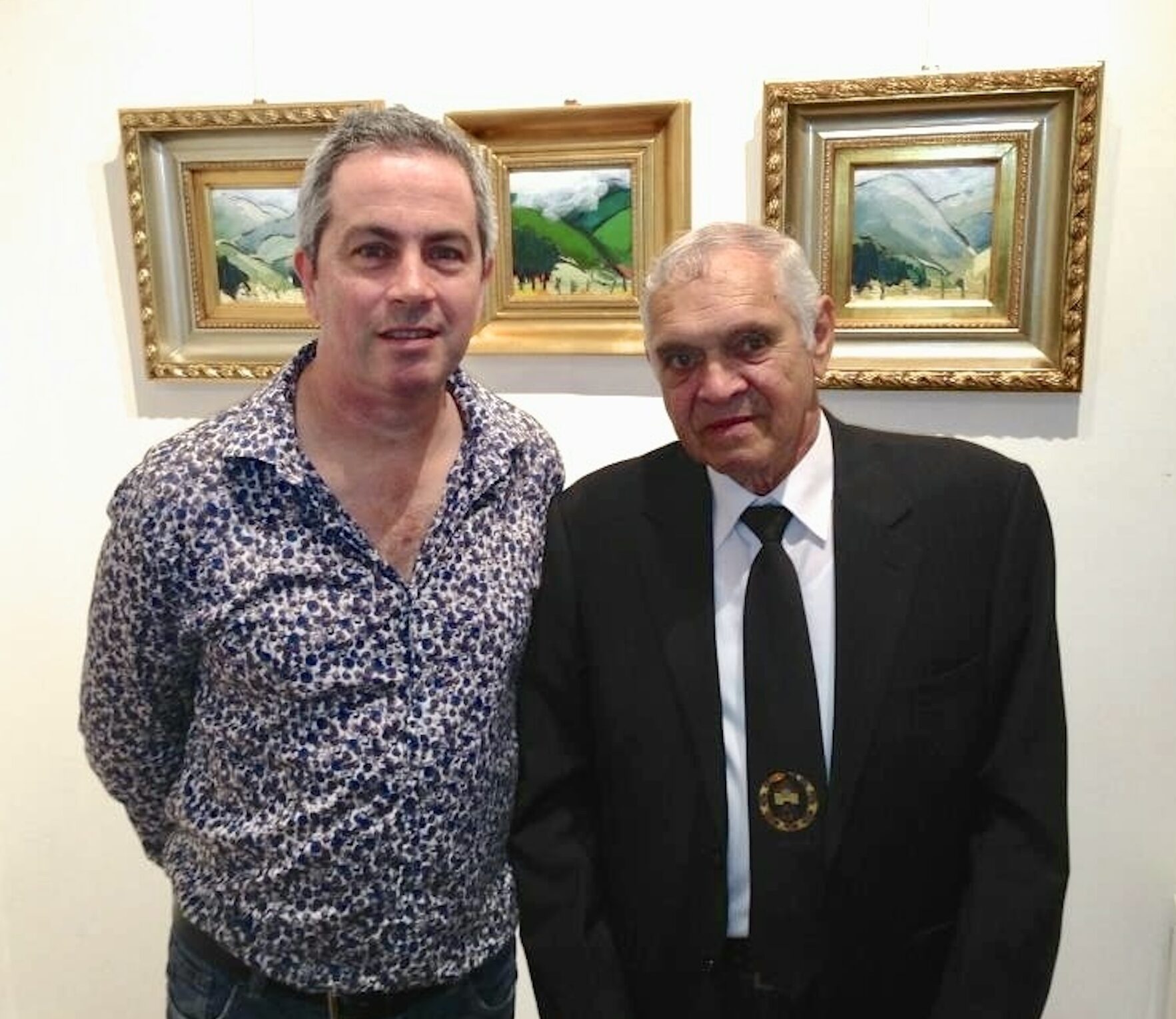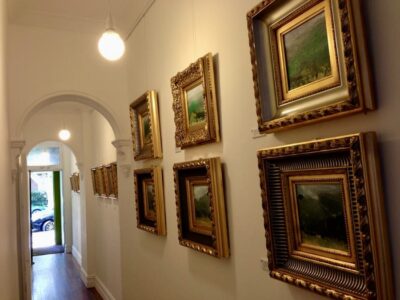 These landscapes have a loose expressionist line and a complex colour pallet inspired by the mist and mystery of the New Zealand hills.
The oil on canvas paintings are built up with multiple layers and glazes in a traditional oil painting method.
Gestural drawing using charcoal and graphite is worked into the wet paint giving the works an immediacy and sense of movement.
The canvases are all 200mm square and are finished in lavishly ornate and bespoke frames, especially crafted for the exhibition that bring the framed dimensions to around 400mm square.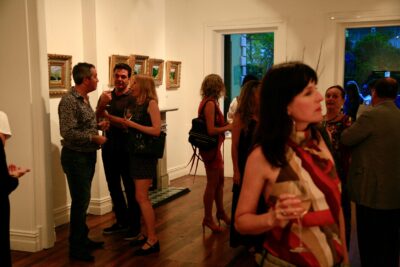 Several of these works were later incorporated into a multi-panel painting titled Self Landscape.