Obscured Image in Tom Petty and the Heartbreakers Video?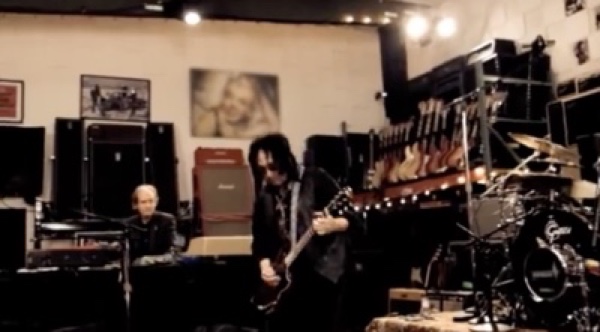 I was flicking through Mr Grubber's fine RSS feed this morning (as you do) and found my way to the new song by Tom Petty and the Heartbreakers – I Should Have Known It. I agree with the DF, it's a great tune. It's slick, pop-rock and I like it. It could be a shocker in less competent hands but Tom has such cred' in his delivery that it works for me. There are some contrived edits of the band interacting with each other but that's just a bit of fun.
Art aside, something in the background of one shot caught my eye. There's a poster on the wall that has been obscured about two thirds of the way through the video. Something legal didn't like I guess. Perhaps someone wanted payment. I wonder what it is – possibly a Marilyn poster?