Guy Chapman was born in Wellington, New Zealand in 1963. He moved to Australia in 1984 to study visual arts and holds a Bachelors Degree in Visual Arts – Painting and Film Making, from City Art Institute, Sydney, which is now part of the University of New South Wales. Guy has held numerous exhibitions around Sydney with many paintings and drawings sold to private collections.
His works explore a feeling of connection to the New Zealand landscape through the repeated motif of the lines, shapes and colours of the hills of the South Island. The sense of belonging to place he was searching for through his work was finally realised when a recent DNA test revealed Māori ancestry connecting him to the Ngāi Tahu people of Te Waipounamu, Aotearoa, the South Island of New Zealand, an area with some of the most glorious, mountainous landscapes in the country.
1990 Bachelor of Visual Arts – Painting and Film Making – University of NSW, College of Fine Arts, Sydney, Australia
1987 Post graduate year, Visual Arts, Private Art School, Melbourne, VIC
1986 Diploma of Visual Arts, Private Art School, Sydney, NSW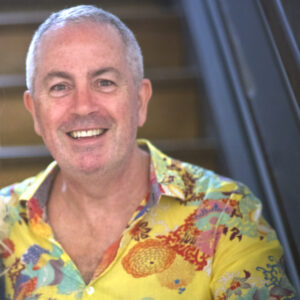 If you have questions, comments or suggestions, or perhaps you purchased some of the original art work shown on this site, I'd be interested to hear from you so feel free to send me an email at guy at guychapman dot net
Feel free to subscribe to the email list. I'll only send you occasional emails about new work or exhibitions and you can easily unsubscribe or update your details later if you want to.
This site has an online Shop that you are most welcome to use directly or just get in touch to have a chat about any purchases if that's easier. If you are in Sydney you can drop by to have a look at any works that are for sale.
If you use an RSS reader this site's feed is located at guychapman.net/feed/