Exhibition DADO number two opened at L'otel, Darlinghurst, Australia on 27 November 1991. The first exhibition DADO 1 had opened a few days earlier. It was a joint exhibition of Paintings and Drawings by Guy Chapman and Photographs by Raoul.
This was the first art exhibition L'otel had held. We installed picture rails after-hours to hang the exhibition. The opening was a big deal but none of us thought to take photos. We sold a whole bunch of art work but didn't keep track of who it went to.
L'otel used to be a small French provincial style hotel, bar and dining room in. Years ago it was run by Yvonne and Eli'. It was a good space back then and I had a few other  exhibitions there over the years. The place changed hands and style a few times after Yvonne and Eli' left and now and the wall space doesn't work for exhibitions.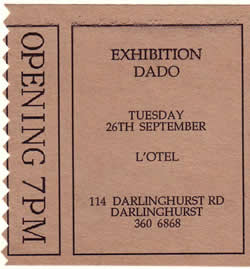 The show got a small write-up in a local rag that talked mostly about the frames…